FREE
EAR piercing every day*
Safe and sterile experience from
Certified Piercing Specialists
---
NOW AVAILABLE: ONLINE BOOKING**
*With the purchase of a starter kit. Starter kit includes piercing stud(s) & after care solution.
**Appointment available in select markets
YOUR PIERCING OPTIONS
Choose your piercing or try a new one! We've expanded our options for all the trendsetters out there looking to play up their ears with super fab looks!
GET YOUR EARS PIERCED
FREE
with purchase of a starter kit
Your lobes deserve a little sparkle! Choose your ear candy and care for your new piercing with our specialty ear piercing kits. These kits will give you the essentials to keep your new piercing happy, healthy, and shining forever!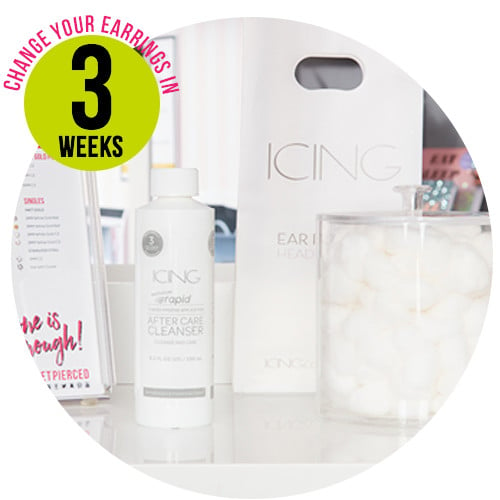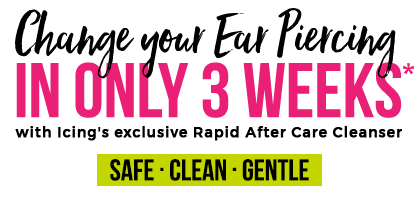 A soothing solution specially formulated to cleanse your new piercing!
Change into your favorite earrings in 3 weeks!*
*Cartilage piercing requires 8 weeks of use
#GETPIERCED
Ladies & Gents don't forget to tag Icing and share your new piercing with our hashtag #GETPIERCED.
You won't regret it!
FREQUENTLY ASKED QUESTIONS
WHATS IN THE KIT?

Ear piercing is only available with the purchase of an ICING Starter Kit. The starter kit includes the piercing earrings, ICING EAR Care Solution and a 20% off coupon for your next visit.

ABOUT THE PIERCING PROCESS

Before your ICING specialist will pierce your ears, they will ask you to read and sign the ICING Registry Form. Please note that all forms and signatures must be completed at the store.

Hygiene is super important to us, and our equipment is sanitized before and after every use. After our Piercing Pros clean and mark the spot with a surgical pen where your new piercing will live, the piercing is done in an instant! Our pre-sterilized piercing studs with ultra-fine, sharp posts are the only thing that touches your ear, never our instruments. After you've been pierced, a Piercing Pro will coach you on how to care for your new sparkle.
OUR TOUCH FREE INSTRUMENT AND STANDARDS

Your Piercing Pro will wear single-use, disposable gloves and clean the ear-piercing instrument before and after each use. To ensure a safe and hygenic experience ICING only uses pre-sterilized, pre-packaged earrings. We never use needles. A Piercing Pro will first clean the surface of your ears with a disinfectant solution swab. They will then pierce your ear with a Professional Piercing System. This system consists of an instrument that creates minimal discomfort and ensures the right amount of pressure is carefully applied to effectively pierce the ear and insert the ear-piercing earring. The back of the earring is automatically adjusted to the back of the ear so you won't have to make any adjustments. It is perfectly placed for your comfort!
CAN I GET MY NOSE PIERCED AT ICING?

Nose piercing is available in select stores. Preview your starter kit options and then schedule your appointment. Walk-ins welcome! Additional charge applies to nose piercing service. Ask a store associate for more details. Check back for updates on this offering.
GET PIERCED
Ok friend, so you're ready for a new ear piercing from Icing, and we could not be more pumped to get you set up with some new sparkle! Whether you are a veteran to piercings or on the rookie team, our Piercing Pros are here to help you put your mind at ease and help give you a world class experience. We start with your piercing options: traditional piercing, cartilage piercing, single piercing, and dual piercings. Once we've discussed your options together, and we figure out the best one for you, we get you set up with a few forms and legal stuff to get us started.
You also get to pick out your piercing kit complete with our AfterCare Solution with an option to upgrade to our Rapid AfterCare Cleanser, which allows you to change your piercing in just 3 weeks. Who doesn't want to get their fave earrings on? Rock those new dangles or those sexy hoops in time for your next event.
For your delicate new piercing, we've got super fab options! Diamonds are everyone's best friend (am I right) and our diamond kits come with genuine diamonds that will give you the glimmer everyone loves. If you love feeling like a total glam doll, the diamond kit is the way to go. The classic go-with-everything stud is our 14k White Gold kit with the kind of shine that only quality metal gives. This beauty has a traditional look, but has stood the test of time when it comes to versatile fashion for your ears.
Speaking of traditional, 14k Yellow Gold and 24k Gold Plated options are available for this truly classic finish. If you like feeling a bit of those vintage vibes or if you like playing the role of ultimate glamazon, these golden babies will dress up those lobes like a real fashion diva. Stainless steel makes a great option for those babes with sensitive ears. This high quality metal will treat your newly pierced ears well and will ease the waiting game. With this classic touch, you'll have the versatility you need for all your outfits.
Let our piercing pros take care of you from beginning to end, and walk away with a new touch of glimmer on your ears! Don't forget your Rapid AfterCare Cleanser to make the process a little easier for you and your lovely lobes! Stop in and talk with one of our Piercing Pros today.
Shop Piercing By Category
Popular Piercing